December 24, 2020
MERRY CHRISTMAS AND A HAPPY NEW YEAR
We wish you all a Merry Christmas and a happy and healthy new year.
December 23, 2017
MERRY CHRISTMAS AND A HAPPY NEW YEAR
We wanna thank you all for making 2017 a successful year for us. We've celebrated our 25th anniversary, Monuments went in the album top 10, the tour was sold out, festivals were a blast and we don't take anything we're allowed to do for granted, because we know YOU make it all possible. We'd like to thank you and wish you all a Merry Christmas and a Happy New Year! We'll see you! - Edguy
October 24, 2017
EDGUY TO ROCK GERMAN CHRISTMAS BASH IN DECEMBER
Edguy have just been confirmed for another show this year. On December 2nd they will appear at the annual Christmas Bash in Geiselwind, Germany, for tickets and information please go to www.christmasbash.de
July 21, 2017
NEW ALBUM "MONUMENTS" #6 IN ALBUM CHARTS
We have just received the information that the new EDGUY album MONUMENTS has entered the German album charts on position #6! Thank you all for your support!
July 14, 2017
NEW EDGUY BOX SET "MONUMENTS" OUT NOW!
Today the new 25 years anniversary package MONUMENTS hits the stores. MONUMENTS comes as a 3 disc box-set with 5 new songs, classic remastered material of the band's discography, rare early-day material and a full live show of 2004 on DVD, plus all video clips of the band. The package includes a photo book portraying the band's entire history. Get a 5 disc version with a huge 160 pages hard cover book
here.
March 13, 2017
25 YEARS OF EDGUY - BEST OF TOUR AND "MONUMENTS" ALBUM ANNOUNCED
In February 1992, a bunch of German kids set out from the middle of nowhere and founded a band that would conquer the hearts of a whole new generation of fans around the globe!
Today, 25 years later, founding members
Tobias Sammet (AVANTASIA)
and the two guitarists
Jens Ludwig
and
Dirk Sauer
, as well as
Tobias "Eggi" Exxel
(bass) and
Felix Bohnke
(drums), who joined the band 20 years ago, can look back at their hugely successful career to shows in more than 40 countries, countless tours in Asia, Australia and America, ten studio albums and top 10 chart entries from all over the world.
To celebrate such an exceptional career with their fans,
EDGUY
will get back on the road. And while the live program will only contain the best material of their entire career, the new release will not be just a 'Greatest Hits' album one would expect to accompany such a tour: The 2-CD/DVD-package
»Monuments«
(release: July 14th) will include brand new material, their best tracks of the last 25 years, and old rarities that have never been published before! In addition, the DVD includes an entire show from their»Hellfire Club« tour in 2004 as well as the complete collection of their video clips. The limited edition will include an extensive coffee-table book containing material from throughout the entire history of
EDGUY
!
Frontman
Tobias Sammet
states:
"Whilst collecting all of this picture material together we were once again made aware of how proud we are of what we have created. There are probably not many musicians who are lucky enough to be able to look back on a 25-year-old band history at the end of their thirties. And especially without any line-up changes in the last 20 years! This is even more incredible considering that we're not from Birmingham, New York or a German metropolis but from a small town called Fulda, a place where you normally only know about the insights of the music business by hearsay. I mean, as kids we started to play Edguy shows even before we had visited concerts as fans ourselves! Then we started to play shows outside our home town, then outside Germany and all of a sudden we found ourselves touring in Asia, America and Australia on a regular basis, because apparently there were people who liked our music. And they became more and more. For us, this always felt quite normal, the next step was all that mattered. We didn't think about what happened while things were happening...

But if you look back now, you will realise how lucky we were! It's now time to celebrate our anniversary with our fans. We'll celebrate our quarter century with the release of »Monuments« and LIVE in some selected cities! We'll perform a best-of set list, a journey throughout our past, with a lot of fuss and at full throttle! The first quarter century is over and we want to honour these years with our fans! To the next 25 years!"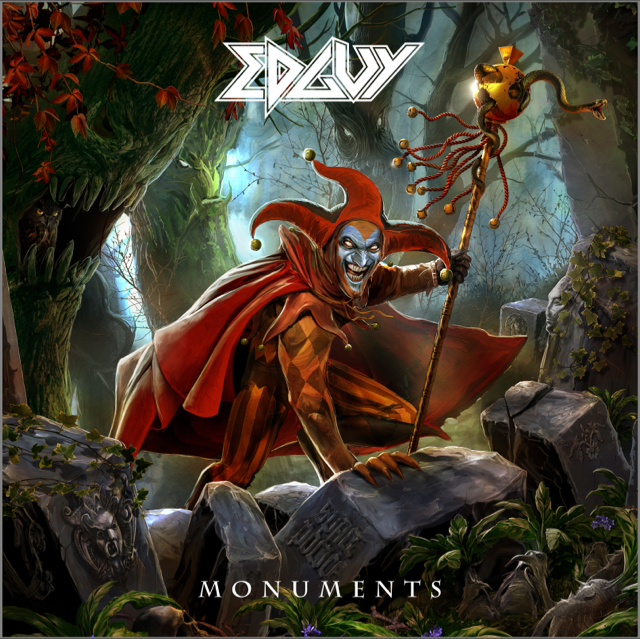 << Previous 1 2 3 4 5 6 7 8 9 10 11 12 13 14 15 16 17 18 19 20 21 22 23 24 25 26 27 28 29 30 31 32 33 34 35 36 37 38 39 Next >>