December 24, 2016
MERRY CHRISTMAS & A HAPPY NEW YEAR!
"Merry Christmas and a happy new year to all of you. We'll see you next year when we are going to celebrate our 25th anniversary: 25 years, a quarter of a century, 10 studio albums and respective world tours, and only one single line up change (20 years ago!). We'll celebrate this with You who made it all possible! But not before Christmas 2016!! ;)

For now: MERRY CHRISTMAS AND A HAPPY NEW YEAR! Faithfully Yours, EDGUY"
March 27, 2016
HAPPY EASTER EVERYONE!
Happy Easter everyone! We hope you enjoy the holiday with your loved ones, listening to some great music!
December 23, 2015
MERRY CHRISTMAS AND A HAPPY NEW YEAR!
The tour is over, and Geiselwind was an amazing finale! After our 10th studio album "Space Police - Defenders Of The Crown" had managed to reach a remarkable #2 on the German album charts, and the world tour in support of the album has taken us to 54 cities in 18 countries on 3 continents - we want to say 'thank you' for your support! Edguy are taking a little break now, as soon as there are news on further activities you'll read about it here or on
facebook.com/Edguy
Meanwhile we wish you a Merry Christmas and a Happy New Year! See you somewhere!
Tobi, Jens, Dirk, Eggi & Felix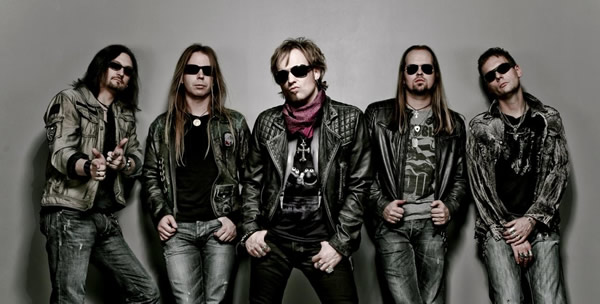 July 31, 2015
EDGUY GETTING READY FOR FESTIVALS IN AUGUST
EDGUY are right now preparing for a string of festival appearances in August. Besides shows that had been confirmed already, such as Leyendas Del Rock (E), Ehrlich & Laut (D), Agglutination-Fest (IT) some time ago already, EDGUY have just been confirmed to return to Slovakia. On August 22nd they'll rock the Amfitheater in Banska Bystrica. Check the tour section for details!
April 17, 2015
UNISONIC TAPS EDGUY'S TOBIAS EXXEL FOR MONSTERS OF ROCK FESTIVAL IN SAO PAULO
Bassist Tobias "Eggi" Exel will replace guitarist Mandy Meyer during UNISONIC´s performance at the Monsters of Rock Festival in Brazil, April 26th, sharing the stage with bands like Ozzy, Judas Priest and Kiss. Meyer has to sit out the band´s festival performance due to a prior commitment for a US tour with Swiss rockers KROKUS.

Says Unisonic´s drummer Kosta Zafiriou: "Eggi is not only a great guy, he´s also an excellent guitar player. When we were considering who could replace Mandy for this show, Eggi´s name came up instantly. We´re happy to fill this gap with a friend!"
February 23, 2015
SPECIAL OFFERS AT EDGUY-SHOP.DE
For a limited time only certain items are on sale at reduced prices at the official EDGUY online store. Since the band is celebrating their 23rd anniversary this February a.o. there is one shirt that was sold at their anniversary shows on February 23rd and 24th 2007 that features two golden dragons carrying the city coat of arms of EDGUY's home town Fulda. Special offers on this and others designs can be found at
edguy-shop.de
.
<< Previous 1 2 3 4 5 6 7 8 9 10 11 12 13 14 15 16 17 18 19 20 21 22 23 24 25 26 27 28 29 30 31 32 33 34 35 36 37 38 39 Next >>